Responsible is the new sexy. FastCompany recently released its list of the World's Most Innovative Companies for 2018 and there is a common theme amongst them: The most dynamic companies integrate social good efforts into their core business. Corporate responsibility is no longer an afterthought added at the last minute, but is instead becoming an integrated part of these organization's missions.
As we previously wrote, there are 7 research-backed reasons why a company should be socially responsible. Understanding your company's core values, engaging employees, utilizing impact metrics, and making sustainability a priority can take your organization to the next level while making a real impact.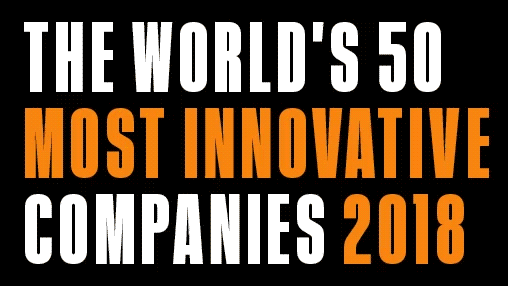 Here are 9 examples from the most innovative companies that can teach your firm how to build your bottom line by giving back.
1. Patagonia: Values Drive Your Triple Bottom Line
Patagonia's commitment to advocacy has only grown their business because they've aligned with their customer's values and created a brand backed by principles, not just an ad-campaign. Whether it was their definitive stand for Bears Ears, their groundbreaking "Don't Buy This Jacket" campaign, their decision to donate all of its Black Friday sales, or their new community organizing platform Patagonia Action Works, Patagonia has chosen action over words, and this decision has paid off in a big way. The lesson? Customers recognize authentic intention, and seek out brands that align with their morals. Considering people and the planet before profit could actually be a smart way to improve your company's impact in all three areas.
2. Salesforce: Grow Your Impact as You Grow Your Company
Salesforce has pioneered the 1-1-1 model, committing to donate 1% of revenue, products, and employee time towards charitable work. They have turned their success with this model into an advisory program for other organizations, Pledge 1%. So far, they have pledged over $168 million in grants, 2.3 million hours of community service, and provided product donations for more than 32,000 nonprofits and higher education institutions. The model works because the benefits grow as your company grows, allowing you to maximize your impact as you maximize your profit.
3. Starbucks: Knock Out Two Birds with One Stone
Starbucks has been making a big impact by finding elegant solutions that solve two problems in one. For example, they recently partnered with Feeding America and pledged to donate 100% of their leftovers to community groups, simultaneously attacking national hunger and food waste. Similarly, in 2017 Starbucks pledged to hire 10,000 newly settled refugees, simultaneously opening new stores in underprivileged and underdeveloped areas. They worked to spur economic development in these areas, as well as offering job opportunities to refugees in the area. Whatever problem your organization is looking to tackle, do some research and see if there's another aligned cause or area in need that could help you enhance your impact.
4. Motivate: Make Sustainability Accessible
Motivate is a bike-sharing system working to drive sustainability in urban areas. What sets them apart, though, is that they're striving to make sustainability accessible. Going green or giving back can often mean a higher price tag, which makes it a privilege to consume thoughtfully. Motivate is working to democratize bike travel for low-income residents, making it as cheap as $5 a year to join their service. It's great if your organization is working to give back, but considering who your company is reaching is just as important. If the opportunity to give back to the community is something reserved for those with disposable income, you're doing something wrong. Analyze your business model and see what opportunities you have to contribute meaningfully and make impact accessible.
5. Aspiration: Increase Awareness to Increase Impact
Aspiration is a financial firm that believes that knowledge is power, and if you know your impact, then you'll maximize it. In 2017, they started the AIM score, or Aspiration Impact Measurement, which scores companies based on how they treat their employees and the planet. Aspiration creates a cumulative personal impact score for each person, allowing clients to see the effects of their consumption almost instantly. This encourages individuals to adjust to their scores and vote with their dollar for organizations that are working to create an impact. Quantifying your impact is a great way to drive more change, so finding any way to measure the good work your company is doing and share this with your clients is a great way to drive
6. Genentech: Help Employees Volunteer in the Community
Genentech is a biotech that develops new drugs, but its recent dedication to The Science of Good is what is setting it apart from its competitors. It's provided the funds to build a Science Garage to get high school students excited about STEM and enhance their science curriculum. They've encouraged their employees to volunteer their time and skills to become a contributing part of the community, giving back to where they came from. Creating programs for your employees to meaningfully contribute to local causes is a great way to increase employee loyalty, and improve awareness in the region. As we see time and time again, volunteering programs offer a great ROI by developing leaders, increasing engagement, and creating a positive impact.
7. Social Capital: Using Capital as a Force for Good
Social Capital uses data techniques to evaluate investments, and their diverse portfolio has been working to contribute to social good by covering sectors including education and healthcare. This trend to use capital as a force for good has been echoed by other leaders in the industry, including BlackRock's CEO, who writes, "Society is demanding that companies, both public and private, serve a social purpose. To prosper over time, every company must not only deliver financial performance, but also show how it makes a positive contribution to society." Consider every investment your company makes as an opportunity to enhance your community and improve the world, not just as an opportunity to improve your bottom line.
8. Duolingo: Create a Team of Lifelong Learners
Duolingo has over 200 million users, and grew its base 30% in 2017 by transforming learning into a fun, interactive experience. Duolingo proves that people are more driven to learn and better themselves than ever, and that is true of your employees as well. Employees want to feel challenged, and if they feel they're working on autopilot it's unlikely that they'll be motivated to contribute in tangible ways to the growth of your company. It's been shown that stretch learning experiences improves employee satisfaction and retention. Offering assignments where your employees will struggle and challenge themselves is a great way to make them feel more engaged and ensure that their professional development is a priority for your company. Another option is to encourage stretch opportunities outside of your company, such as volunteering their skills to support social good.
9. The Muse: Engaging the Dynamic Force of Young People
According to FastCompany, The Muse "has become the definitive career resource for the under-35 set," and their focus on millenials has helped companies like Facebook and Capital One hone skills to recruit young people. The Muse is a great example of the power of millennials, a subset that many companies are ignoring– and paying the price. According to recent research, purpose is a main driving factor for these young people and over 50% of millennials volunteer. Companies need to adapt to this increased emphasis on a company's values and ethics. A great way to do this is by encouraging purposeful volunteering projects that develop employee skills, build relationships within the company, and give back to your community.
Making social responsibility a priority for your company doesn't have to mean sacrificing growth or return. Besides providing ROI, there are 7 research-backed reasons why your company should be socially responsible – and these nine innovative companies have proven that giving back can be a driving force for success. Use these lessons to take your company — and your impact — to the next level. If you're interested in exploring more ways, send us an email: info@movingworlds.org.