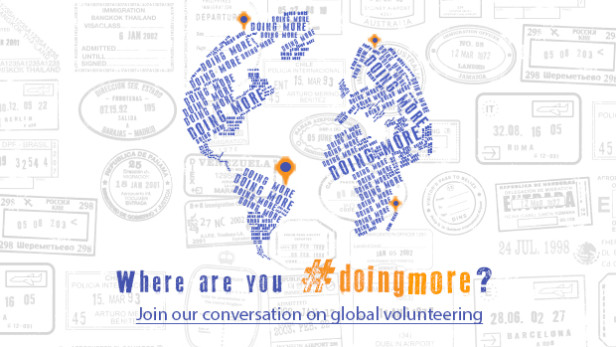 This week, we're excited to announce an exciting partnership with Devex and 6 other international development organizations working to better international volunteering – it's called Doing More. Our kick-off today marks the beginning of a 6 month campaign to help accelerate development around the world by empowering organizations to access the right skills at the right time.
"Doing More" is a series dedicated to showcasing the evolution and importance of volunteerism to international development and humanitarian relief. Considered as both an excellent way to break into international development and a medium for experienced professionals to make use of their skills, it also helps social impact organizations expand their staff through skilled volunteers.
Here is what you can expect by following this #DoingMore campaign
First: Insight into the International Volunteering Industry
Our partners include The Peace Corps, CUSO International, Volunteers for Economic Growth Alliance (VEGA), Voluntary Service Overseas (VSO), Austraining International, and the International Federation of Red Cross (IFRC). With a combined +150 years of international volunteering experience, this group will provide insights into the following topics:
Corporate volunteering
Measuring impact
South-South volunteering
Youth volunteering
Diaspora volunteering
Role of volunteering in the post-2015 agenda
Role of volunteering in crisis prevention
Role of volunteering in combatting climate change
Role of technology
Benefits of volunteering
International volunteering best practices
Second: Inspiring Stories from Volunteers in the Field
All partners will be sharing stories of their volunteers in the fields, as well as stories of the hosting organizations. By hearing from both sides of the volunteering equation, you'll see the true impact that the right expertise can make at the right time. Tune in to hear real stories from people volunteering their skills, and tips for planning your own experience of a lifetime.
And, if you have your own story, make sure to share it with us using #DoingMore.
Third: Best Practices for Corporate Volunteering
Corporations, in increasing numbers, are harnessing the power of international skills-based volunteering for the benefit of people, planet, and profits. In addition to MovingWorlds, our partners have valuable experience supporting corporations and their international volunteering programs. If you're interested in piloting or expanding a corporate volunteer program, then make sure to follow along to build the business case.
Fourth: Lots, Lots More
According to Devex:
Volunteers are a critical part of global development. Join Devex and leading volunteer organizations to kick off #DoingMore, an online series on volunteering and its impact on global development. Follow the conversation on social media and share your #DoingMore story with us!
Devex, MovingWorlds, and the rest of the partners, are excited to share our experiences about skills-based volunteering. Done correctly, volunteering overseas can have profound affects on hosting organizations and the volunteers, and we're all committed to empowering both sides do more.