MovingWorlds is a social enterprise that helps working professionals find skills-based volunteering project that will make a lasting impact. Along the way, we make sure to take care of our "Experteers" so that you get to learn and grow in the act of giving. It's why Create Change, Be Changed is our motto.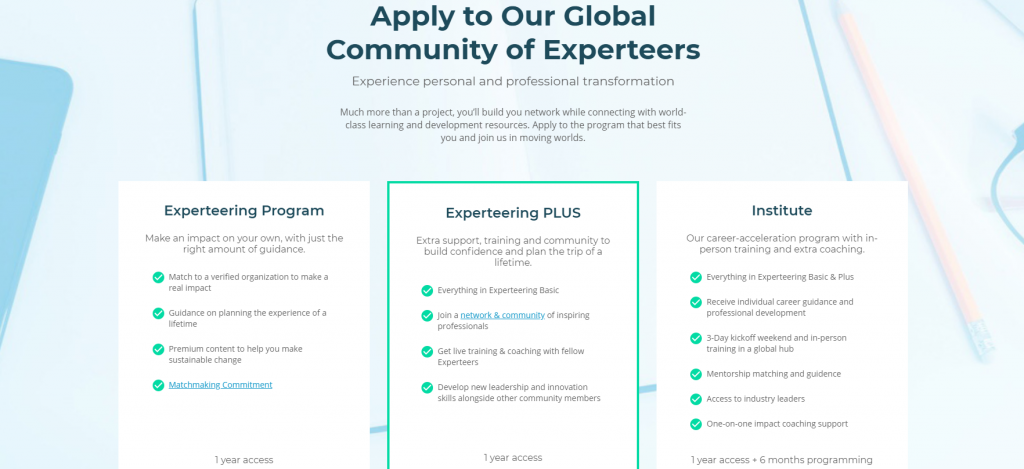 As you think about which MovingWorlds program is best for you, here are some tips:
Want a project and nothing else?
Our Experteering program guarantees to find you a skills-based project that aligns with your skills and availability.
Looking for some personal and professional growth while Experteering?
Our Experteering PLUS program builds on our Experteering program, and adds extra community features, virtual live events, and training workshops to help you be an effective Experteer. Along the way, our platform and community will guide you through personal learning and development guides and resources.
Trying to adopt Experteering or another social impact initiative at your company?
Corporate Impact Teams is for your intrapreneurs and corporate changemakers. No matter the scale of your idea, if you're trying to start a social good initiative at your company, Impact Teams will give you the experience, confidence, and know-how you need.
In a career transition?
Our MovingWorlds Institute helps skilled professionals find purpose in their work and make a real impact in their careers. In addition to adding one-on-one coaching, an in-person training/cohort-building weekend, case-based learning, and monthly webinars with industry leaders, it also provides incredible access to our global network of industry leaders and partners.
Have more questions about our programs? Check out our programs page for specifics, review our FAQs, or send us an email anytime!