Finding a place to volunteer your real skills overseas with an organization that doesn't charge you is not an easy task – and that's partially why we started MovingWorlds… The other reason we started MovingWorlds is to accelerate the impact of locally-led social impact organizations who are working to solve last-mile challenges and have the most potential to create jobs. As it turns out, these growth-minded organizations are eager to provide immersive, skills-based volunteering opportunities and include free accommodations as they know that the proper application of skills can truly catalyze their organization.
Our focus continues to be building an easy-to-use and efficient matching site to connect you with changemakers. Our new search feature is just one of the tools available to help you find you find the best place to volunteer your skills, anywhere you want to travel.
In this post, I'll walk you though:
How to use the search
How to filter results
How to save a search so that you can be notified when new projects meet your search
Why saving a search is important to our support team so that we can source new projects that fit your skills
Let me give you a quick tour… Go to the MovingWorlds browse page to start your search for free international volunteering projects
BROWSING
From our Browse page, you can use the map to find opportunities in specific areas. Clicking on the numbers on the map show you the titles of different opportunities. Clicking on a title will show you more details about the opportunity on the "Cards" to the right.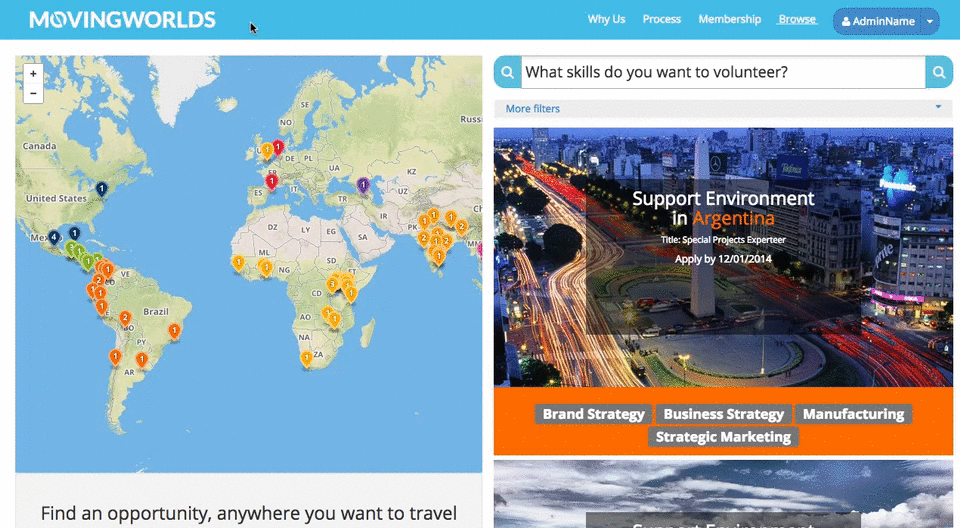 SEARCHING
Search for opportunities related to your skills. The most important factor in any Experteering engagement is that the opportunity relates to your professional, technical, and/or creative skills. Choose 1 to 5 that apply to you.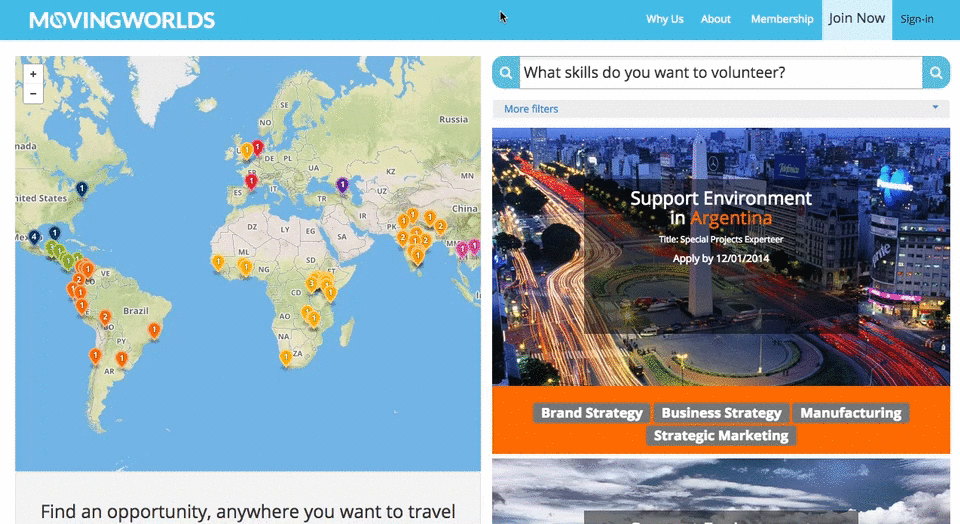 FILTERING
After searching by skills, you can filter your results using filters. All our organizations on MovingWorlds post projects and input their own details, including length of location, length of time, required languages, benefits provided, and more. You can choose the filters that are most important to you.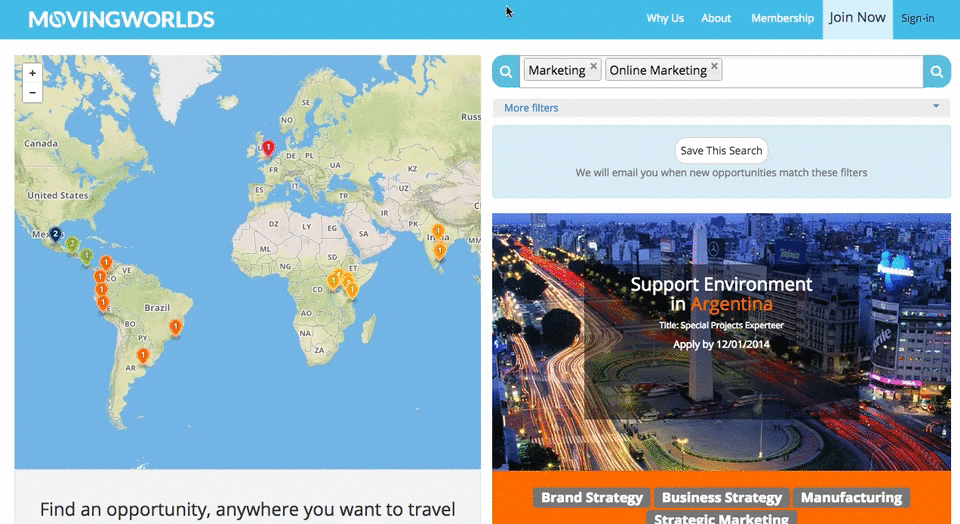 SAVING
Once you have a search filter setup, you can save the search. This does two things:
Our system will notify you any time a new opportunity is published that matches your search query.
It informs our global support team the types of projects it should source.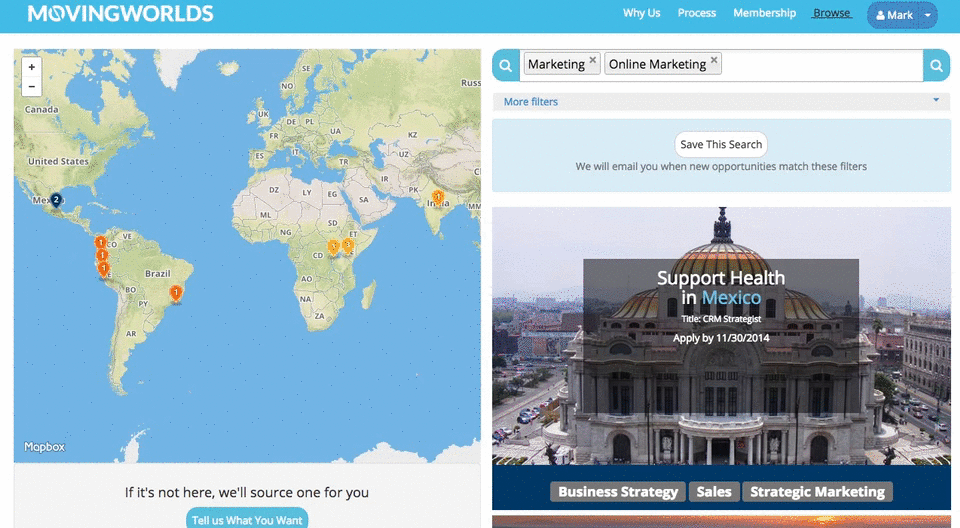 GETTING SUPPORT
If you don't see a project that excites you. We have partners covering 6 continents and over 80 countries. We source new opportunities based on the profiles of our members, and will work with our members to find opportunities that are the best fit for the time, skills, and preferences.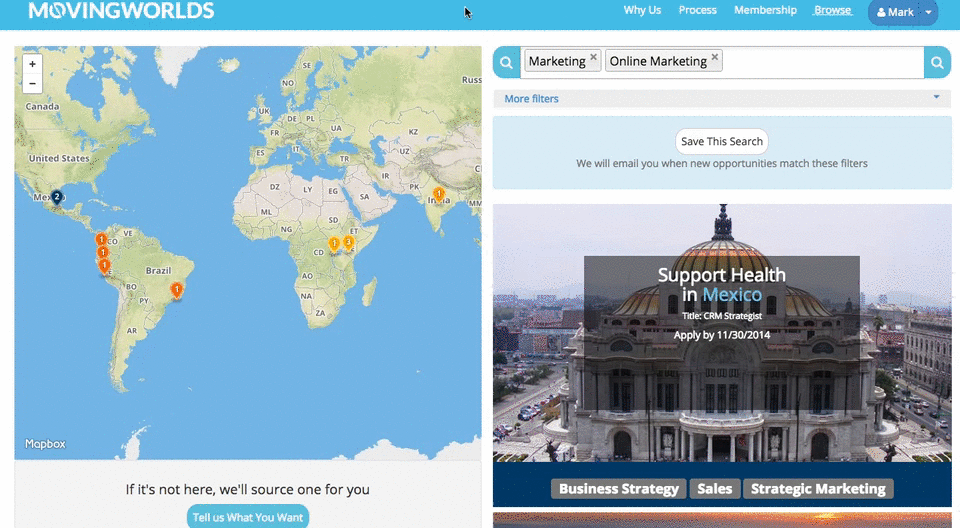 ---
While we have made some major advancements with this new search tool, we're not done, yet. We're testing a new beta search… if you want to help us test it, let me know in the comments below and I'll message you our testing details. And, if you have any other feedback about this search or other features, please let us know!
Yours in moving worlds,
-The MovingWorlds team