On Dec 14, our MovingWorlds S-GRID program hosted the wonderful Nzgina Broussard from the Global Innovation Fund for a webinar to share best-practices with social enterprises that are looking to raise impact investing dollars.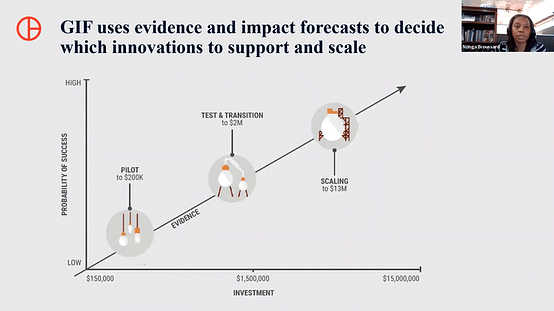 Below are nine key takeaways from the presentation, which you can also view the recording of here:
💻 You don't have to change your primary pitch, but you SHOULD adjust your pitch so that the investor/funder understands how your business aligns with their investing thesis and theory of change.
🤦 Entrepreneurs often sell themselves short in telling their social impact story.
⚡ To tell your story most effectively, start by highlighting the actual problem or challenge you're tackling, and then share how your innovation addresses a ROOT CAUSE of that problem.
👓 Emphasize the problem by showing what will happen in the ABSENCE of your application — use STATISTICS to make your point.
🎯 Share how your solution directly impacts beneficiaries, and customize this to show how it aligns with the priorities of the investor/funder you are pitching.
📈 Use data that will excite your investors. For example, understanding the number of 'Engaged users' is more important than 'total users'. Following that same logic, 'Total services delivered' is more important than 'people served'. Look at how your investor/funder reports, and try to show your data in a similar way.
🤏 A little extra work in researching your investor and then customizing your pitch to them specifically can save a lot of time and increase your chance of success!
🦄 STAY on mission. Don't change your business pitch to try and woo investors. Lead with your mission and impact.
📊 Impact dimensions that matter most to investors include: 
WHAT outcome do you create?
WHO do you create it for?
HOW MUCH of the outcome occurs?
Would this change happen without your CONTRIBUTION?
What is the RISK you don't achieve the outcome?
---

When it comes to raising funds, the way you tell your story matters. Keep the tips above in mind for your next pitch, and for even more detailed guidance, watch the full recording via this link and make sure to also join us for the follow-up webinar on January 19th here.